Port Isaac – A glimpse into Cornwall's past

Port Isaac – A glimpse into Cornwall's past
The Spindrift trilogy explores the lives, loves and friendships of a fictional, turn of the 20th century artists' community. Their imaginary home, Spindrift House, is on a clifftop near Port Isaac on the rugged north Cornish coastal path.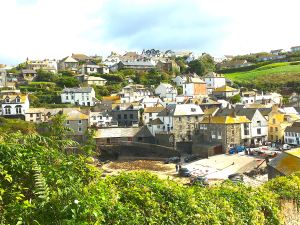 'Porthysek' means 'corn port' in Cornish. Once a Saxon port, a pier was built out into the sea during the reign of Henry VIII and Delabole slate, timber and corn were exported. Port Isaac has a history of pilchard fishing going back to the 16th century but, during the late 19th century, the industry declined. Today, tourism has largely taken over from fishing. Inflated property prices in recent years have forced many villagers to leave but a few fishermen may still be seen unloading their catch of crabs, lobsters and fish onto the Platt, a wide cobbled area sloping down to the beach.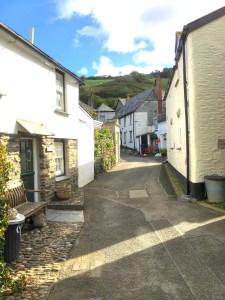 The picturesque village of Port Isaac is reached by steep, narrow streets that wind down towards the sea and most of the whitewashed and slatestone houses clustered around the harbour were built in the 18th and 19th centuries. Until a hundred years ago, without cars, telephones or internet, the village was remote and life had remained unchanged for generations.
At the time of the Spindrift story, waste from the cottages still went into an open drain running through the village. When a sluice gate was opened, the waste was flushed towards the beach. Housewives would walk down Fore Street with a pail of slops or ashes to dispose of in the chute at Little Hill and these also dropped onto the beach below. There was no electricity and water was collected from pumps in Chapel Street or Mine Pit Corner. The arrival of the railway in the 1895, stopping at Port Isaac Road station, a three mile walk away, opened up new possibilities of sending smoked fish to London and of bringing visitors to the village.
The Spindrift children would have attended the village school on Fore Street, which was built in 1877 on the clifftop overlooking the sea. There were separate entrances for boys and girls. Footballs must have often flown over wall of the boys' playground, which overlooked the precipitous drop to the harbour.
The villagers made their own entertainment. The Band of Hope built the Temperance Hall in 1895, providing the venue for numerous events and societies. John Wesley visited Port Isaac several times in the 18th century and inspired a strong Methodist tradition in the village. Anglicans worshipped at St Peter's or the 15th century church of St Endellion outside the village. St Endellion's tower is made from Isle of Lundy granite and its height made it a useful landmark for sailors navigating the treacherous coastline.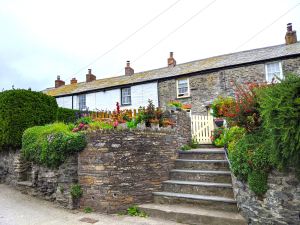 In the past, poverty forged the villagers into a close-knit community. Now, tourists and second-homers have changed the unique character of Port Isaac and, although the locals are financially better off, some say they would prefer to return to those happy times in the past.